The great outdoors are intrinsically relaxing and living in harmony with nature became one of the most popular trends! The thing is, many of us can't make it to the Outside, to the wilderness as much as we'd like to but due to nature inspired design and, in this case, interior design, we can bring a little of mother nature into our homes.
A house should be practical yet stylish, should be comfortable yet with personality. It does not only showcase good taste but also allows you to enjoy it at its fullest, your most personal space and therefore makes your guest feel welcomed and a little envious.
Nature is the source of inspiration for this post and we rounded up 10 high-end furniture items list for you and your contemporary living room. You'll find everything you need to an outstanding living space, from the modern cabinets to modern tables or chairs, let us share with you these amazing luxury furniture pieces. Each piece is an example of excellence in craftsmanship and attention to organic detail. Enjoy!
Bloom Club Chair by Kenneth Cobonpue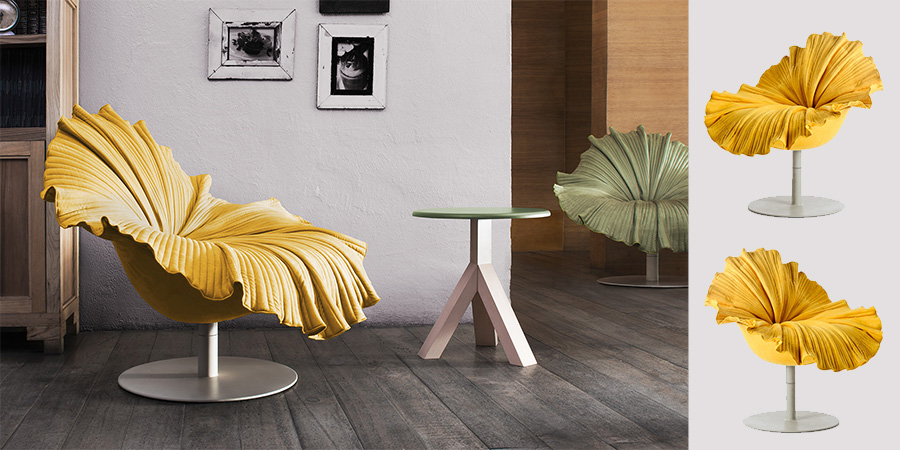 Firstly "Welcome to the organic beauty of the garden indoors.". So inspired by a delicate blossom, the Bloom is composed of hundreds of fine running stitches that radiate from the center of the seat. Handmade in microfiber stitched over a fiberglass reinforced top, Bloom sprouts from a base made of steel in a nature inspired design.
Sagres Sideboard by Malabar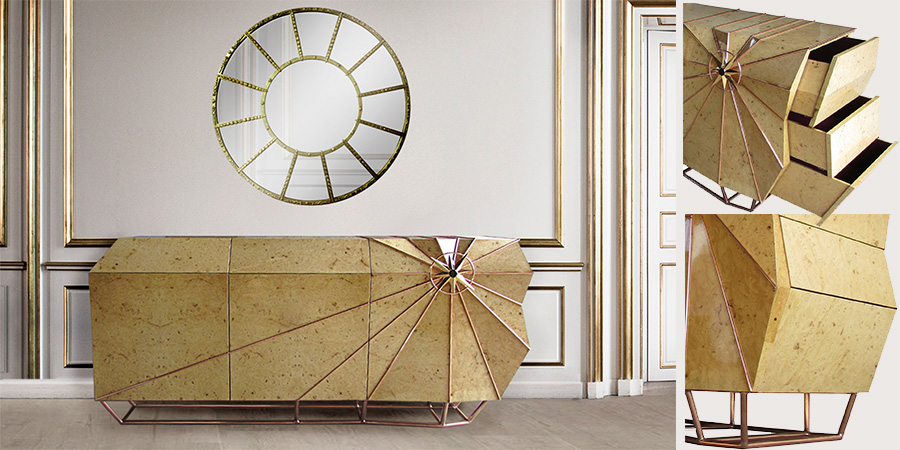 Secondly, Sagres is an iconic parish in the southern Algarve of Portugal. This beautiful place inspired Malabar to create the Sagres contemporary sideboard.   The compass rose and latitude lines of nautical charts of yesteryear symbolize years of trial and error of intrepid nautical explorers paying homage to their discoveries as they fervently found safety in the open sea and were undaunted in their travels despite fierce winds. Impressive in structure, built with solid poplar wood and supported by gold and bronze plated steel. Sagres is perfect for contemporary dining rooms and meeting places where important decisions are made.
Monticello Center Table by Porus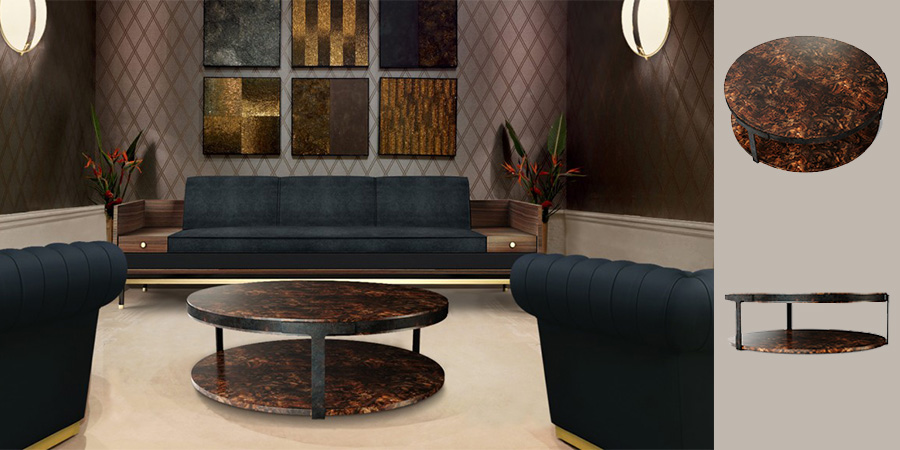 Thirdly, Monticello, located in Lake Berryessa inspired Porus Studio to create this contemporary center table. The top of the nature inspired design contemporary center table is made in dark oak wood, surrounded by brass with a terracotta finish. This structure extends along four elegant legs that connect the top to the dark oak wood base. The Monticello center table will add sophistication and style to any contemporary home decor.
Carolyn Rooted Accent Table by Safavieh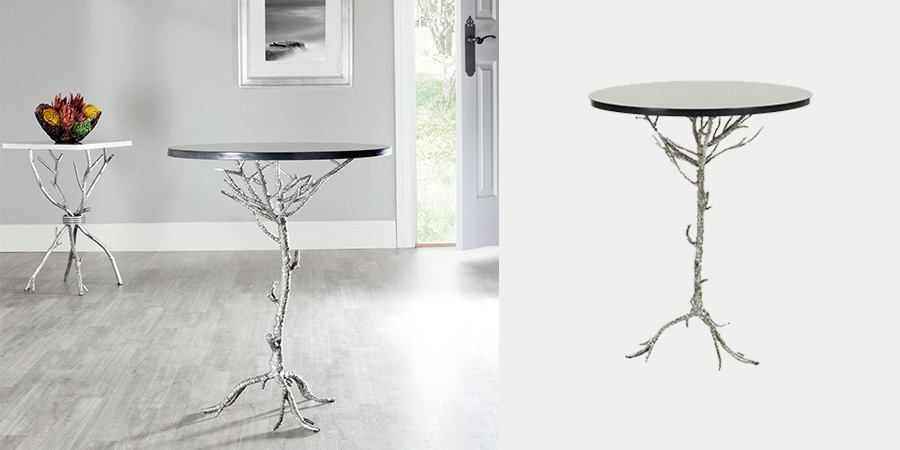 The faux bois Carolyn accent table celebrates nature inspired design with an iron base forged to replicate the crusty bark texture of a graceful tree branch. Burnished golden brass finishes contrasting the pure white marble tabletop or a warm antique silver finish that contrasts the pure black granite tabletop.
Asheville Sofa by Porus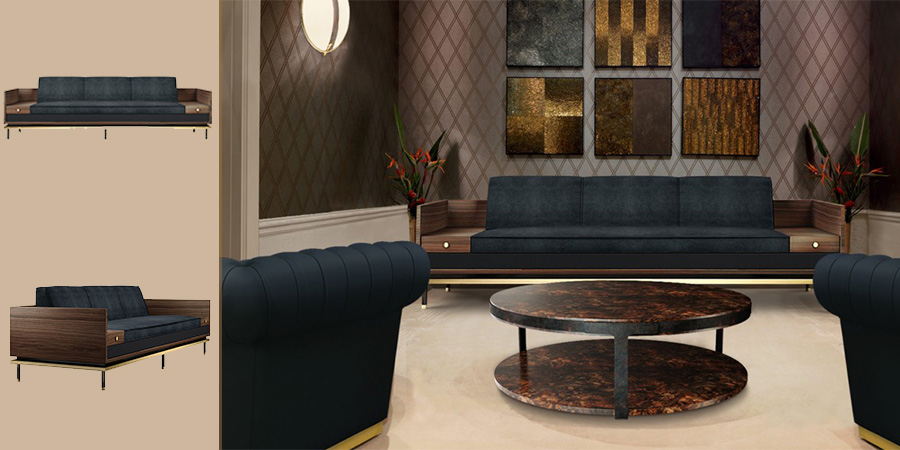 Asheville is the largest city in Western North Carolina famous for its unmistakable mountain vibe. The unique landscape and views that Asheville offers to its visitors, inspired us to create a modern furniture piece that shows the real gist of the city. The stunning Asheville sofa features an American walnut structure, having two drawers on the sides which handles are detailed in antiqued polished brass. Part of the structure is upholstered in genuine leather. The nature inspired design sofa is minutely upholstered in cotton velvet, combined with the antiqued brass feet and lacquered legs. Asheville modern sofa is an absolutely masterpiece for any contemporary living space.
Le Jardin Dining Chair by Christopher Guy.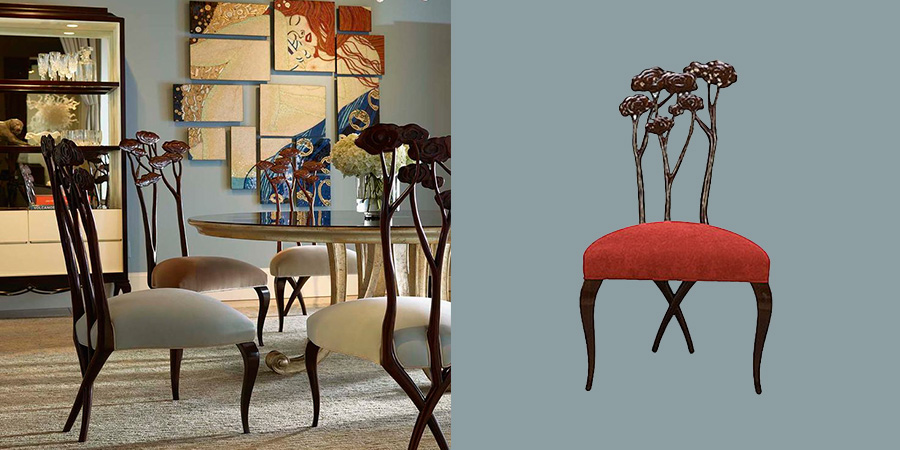 As an emblem of longevity and purity, Coco Chanel was captivated by the allure of the Fleur de Camélia. Carved from solid mahogany, Christopher designed this magnificent piece to play homage to the Mademoiselle legacy. This is surely a nature inspired design.
Wanderlust Console by Malabar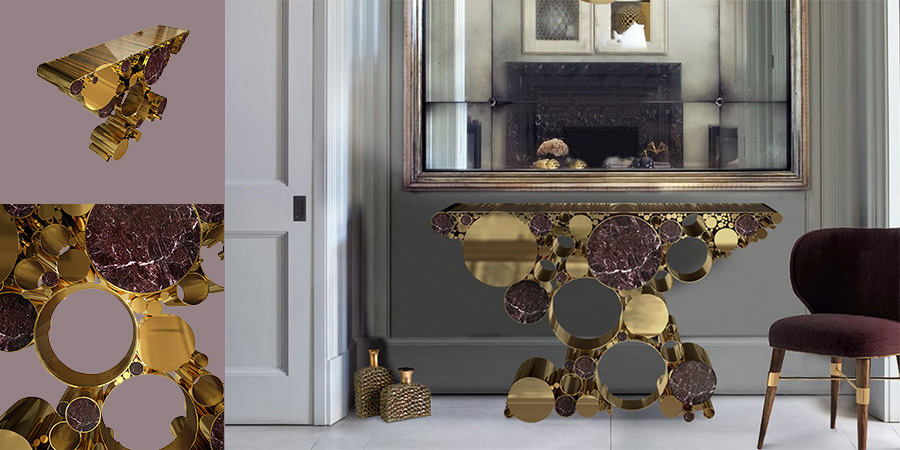 Suppose Design Studios' interior architecture project located in Hiroshima, Japan, brings nature into a boutique environment. By placing an infinite number of cardboard pipes in the store, the sensation is of strolling through a forest or a cave, recreating an unlikely nature inspired design at the heart of a city. On Wanderlust contemporary console, a variety of widths of the polished brass pipes carries the same artificial yet natural landscape into modern interior spaces. The yellow-tinted transparent glass top gives a unique style and sophisticated elegance to this contemporary furniture piece.
Abyss Table by Christopher Duffy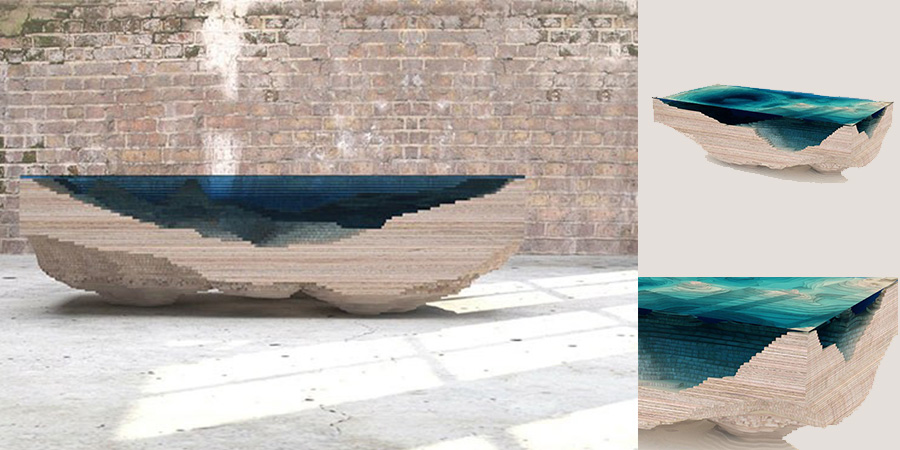 Finally "And when you gaze long into an abyss, the abyss also gazes into you" – Friedrich Nietzsche. So that's exactly what designer Christopher Duffy's latest creation "Abyss Table" demonstrates. Built with multiple layers of stacked glass and high-grade wooden slices, the design is concerned with depth and creates a geological cross-section as mesmerizing as the sea. This is surely a nature inspired design.
SEE ALSO: WHY DO WE LOVE KELLY WEARSTLER?
Well, what's your opinion about nature inspired design? So Have you felt in love with any of these? Let us know! We are totally in love with these products.
On the whole, if you want to keep being inspired by décor ideas stay tuned to our blog.