It's not an easy task to choose the coffee table design and which fits in your living room. So it may depend on how and for what you'll use it. Therefore, we selected some gorgeous modern coffee tables for contemporary living spaces.
Monticello by Porus Studio
Firstly, the Monticello Center Table. So taking inspiration from the Monticello, located in Lake Berryessa, California, the largest drain hole in the world. Therefore, Porus Studio designed this modern coffee tables.  Made of dark oak wood, surrounded by brass with a terracotta finish. This structure extends along four elegant legs which connects the top to the dark oak wood base. The Monticello center table will add sophistication and style to any contemporary home decor.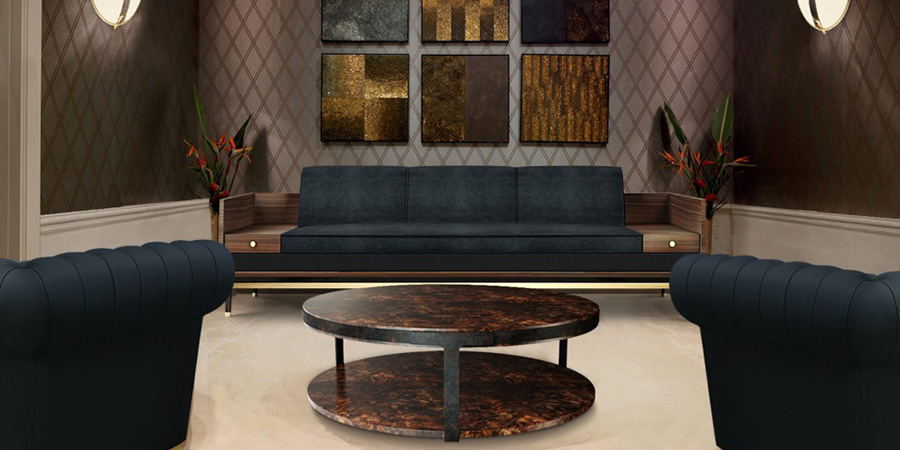 Oval Mod Delwood by Wade Logan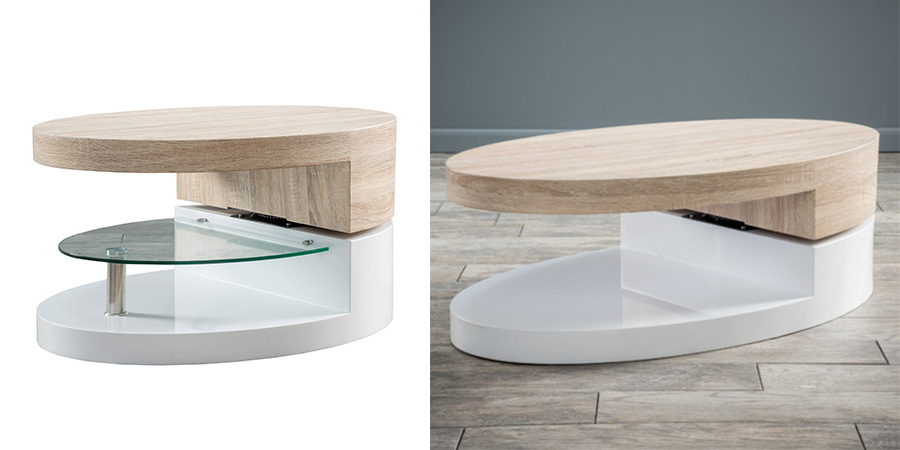 Small Oval Mod Rotatablemodern coffee tables  with Glass offers a clear late 60's vibe to any room it is placed in. With a rotating top and tempered glass shelving this table is multifunctional and unique. Make a statement in your home with the Small Oval Mod Rotatable Coffee Table with Glass.
Fan Black by Tom Dixon – modern coffee tables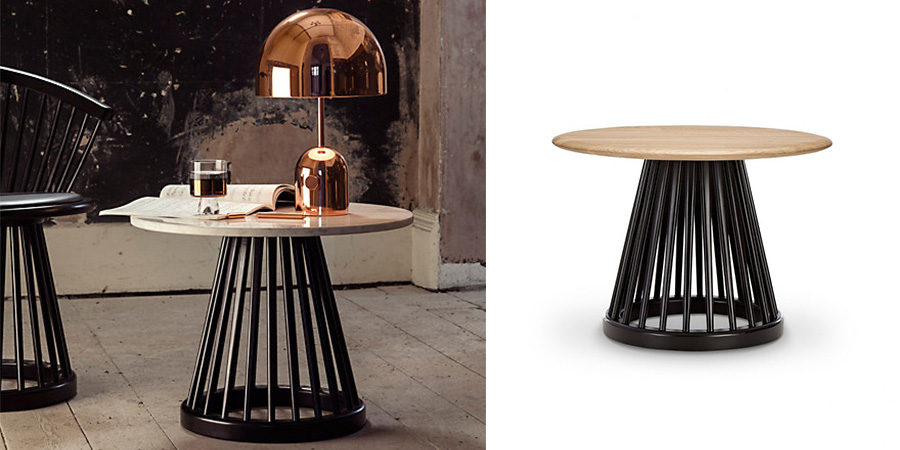 Originally a dramatic and sculptural take on a British design classic, Fan is available as a high back chair, dining chair, stool and table. The stools and chairs have a black leather seat pad, while the chairs feature a curved back, offering support and comfort. Available in a Black Birch or Natural Oak base and Black Oak, Fumed Oak, Natural Oak, Natural Birch.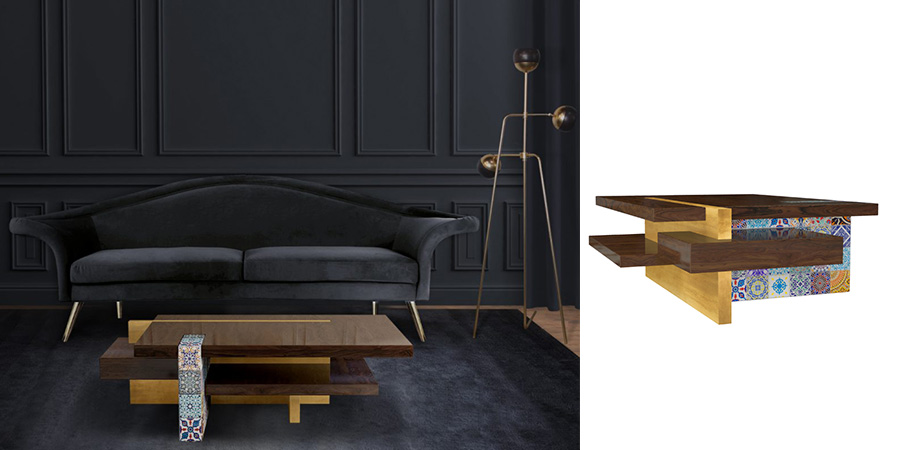 The famed Portuguese tiles adorning Camelia contemporary center table uses the 17th-century style pattern camélia, still embellishing many of the walls in Lisbon nowadays. Combining hand-painted tiles, gold leaf and walnut with high gloss finish, Camelia modern center table is a remarkable piece which carries cultural tradition to exquisite living rooms.
Route by PORUS


The Route modern center table is a reinterpretation of a railway into a contemporary furniture piece. The modern center table is split into five American wood structures that form the top.
The base, made in brushed brass and finished with varnish, holds the marvelous wood top, turning this modern furniture piece into an essential addition to any contemporary living space.
Samba by Cattelan Italia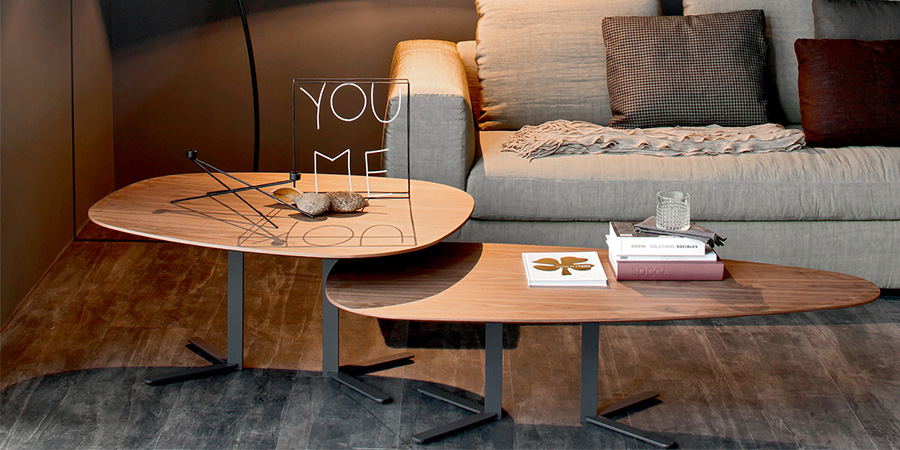 The Samba modern coffee tables inspires you think outside the usual parameters of your floor space. Whether used alone, in a pair or grouping of many, the organic shapes of Samba coffee tables can balance or shake up a space with dynamic lines and curvaceous shapes. A sturdy, minimalist steel base with an embossed lacquer finish endows the table with stability. Complemented by a hearty solid Walnut or marble top that lends a practical, stylish, and entirely accessible modern aesthetic.
Waterlily by Malabar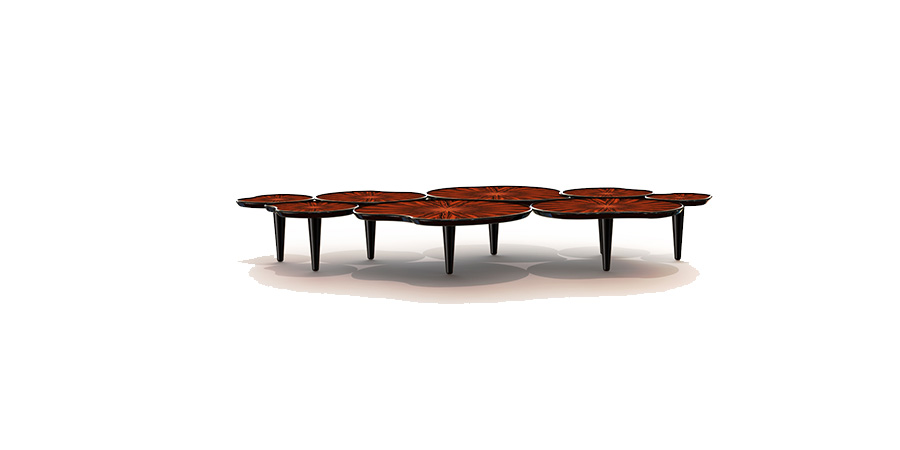 "Study nature, love nature, stay close to nature. It will never disappoint you". This is the philosophy of Frank Wright, a prestigious architect that marked a generation and influenced the direction of architecture in the 20th century. It is to this undisputed name of world architecture that Malabar pays tribute by presenting Waterlily, a modern center table that stands out for its originality and sobriety. Consequently, this contemporary center table is made to fit in exquisite living rooms that strive for a nature inspired design.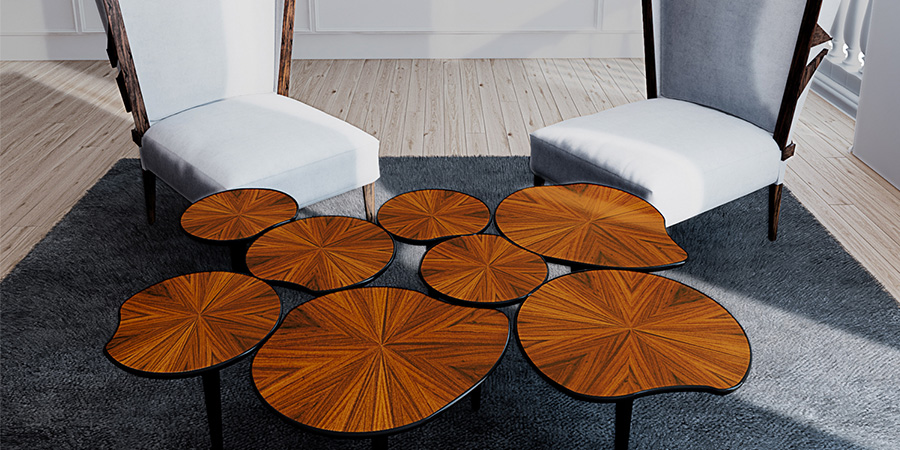 Berkeley Nesting by Modloft


Finally, the Berkeley Nesting modern coffee tables , Set of 2 features a round wood base with glass top. Its open mouth style allows the bottom table to fit inside.
SEE ALSO: MID-CENTURY MODERN FURNITURE INSPIRED BY WORLD'S MOST LUXURY HOTELS
Well, what's your opinion about modern coffee tables? Have you felt in love with any of these? Let us know! We are totally in love with these projects.
On the whole, if you want to keep being inspired by décor ideas stay tuned to our blog.